Welcome to the Hotel-Pension Bleckmann
in Vienna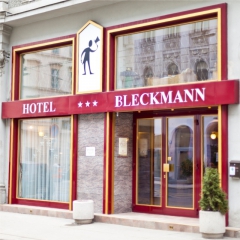 We are extremely pleased to welcome you to the Hotel-Pension Bleckmann in the centre of Vienna. In our family-run, 3-Star Bed and Breakfast, Viennese heartiness and hospitality with a personal touch are still given top priority. The Hotel-Pension Bleckmann, a bed & breakfast hotel, has slowly grown to its present size from several apartments in a beautiful, old, Viennese house from the time of economic expansion at the end of the 19th and early 20th centuries.
After the last extension and renovation, the Hotel-Pension Bleckmann is a well-established 3-Star accomodation. At the Hotel-Pension Bleckmann, old Viennese flair and modern service are combined with Viennese hospitality.
3 Star Bed and Breakfast
Being in the immediate vicinity of the historic Old Town of Vienna makes our Hotel-Pension Bleckmann a wonderful starting point for a stroll around the shopping areas, or an excursion to enjoy the cultural scene in Vienna, or its nightlife. At the same time, the Bed and Brekfast is also ideal for price-conscious business travellers as it is so close to Vienna Trade Fair, because of its superb location in the Vienna town centre and the excellent connection to the public transport network. Last but not least WIFI is free throughout the building.
We look forward to welcoming you!
Hotel-Pension Bleckmann & Team
3 Star Hotel-Pension Bleckmann
Währinger Straße 15, 1090 Vienna – Austria

Tel: +43 (0) 1/ 408 08 99
Fax: +43 (0) 1/ 402 20 24